Add Documents from the Web
Enter the URL of a document hosted online to add it to PDFliner and begin editing, signing, and sharing. PDFliner supports PDF, Word, PowerPoint, and Text formats.
Search for Fillable Documents
Search PDFLiner's library of over 10 Million forms by name or description
and begin editing, signing, and sharing the documents you need!
1

Upload your document PDF converter

2

Type anywhere or sign your form

3

Print, email, fax or export

4

Try it right now! Edit a PDF file
How to edit a PDF file with PDF editor?
Online PDF editor is a versatile instrument for quick work with PDF documents online. From now on, you don't need a printer, a scanner or a black fountain pen to make urgent changes in your files. Simply use this program.
The first thing you need to do to work with PDF editor is to upload the document of your choice.
Click on the upload button on our website and choose the file on your computer.
Choose one of the files in our database.
Paste the link to the file you'd like to edit.
After the upload, you will be immediately redirected to the dashboard with various instruments you can use for changing your document. The basic instrument is text, so let's start with it.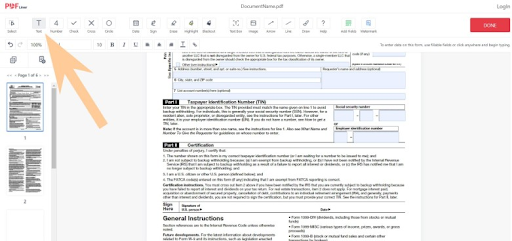 Click on the second button from the left with a letter 'T' on it. Then move the cursor to a place in the document where you want to type in additional text. If you change your mind about the placing of the text, you can always drag the textbox where needed. PDF editor also gives you the ability to change the font, size and color of your text, as well as to make it bold, italic or highlighted.
Another highly important instrument this editor offers is signing. With it, you can sign any document without wasting paper and ink. There's a 'Sign' icon with the pen among the instruments. Click on it, decide on a place you need to sign your file, and voila!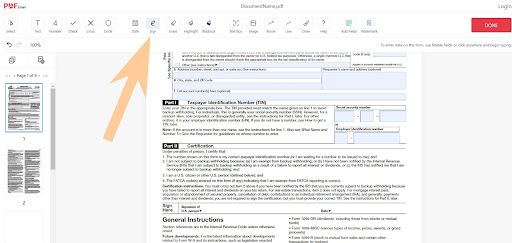 To make your document even more concise, you can use such instruments as image adding and editing or highlighting the whole text or a part of it. To add an image to your document, click on an 'Image' icon that is situated next to the 'Text Box' icon. Then, you'll be given a choice of our database images, but you will also be able to upload one of your images or even make a quick capture right here right now.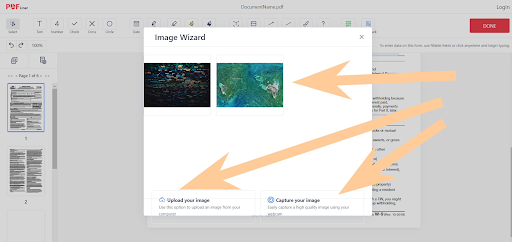 If you need to get rid of some information in the document or change its outlook, use the 'Erase' and 'Blackout' instruments. The former leaves the white field instead of the text while the latter changes the color into black, making the text underneath unreadable. These two instruments make one group with a 'Highlight' instrument that acts a lot like a marker pen and lets you underline the most crucial parts of the document.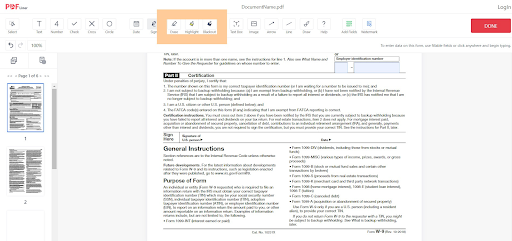 Another great finding of this PDF client is the 'Date' instrument: with it, you can place the cursor in the spot where the date is needed and just click on it once to locate the today's date there. In the small cursor menu, there are options to change the date to another day, as well as to change the size and style of it.
To the left of the text field, there's a 'Pages' box where you can quickly switch between the pages of the document by clicking on the one you need. In this box, you can alternate the order of the pages in the document and add the extra ones.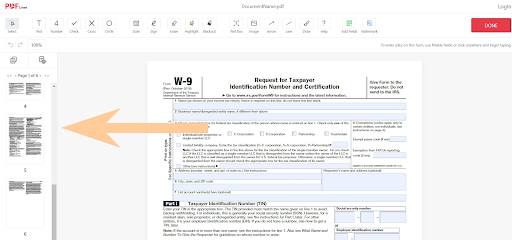 The 'Add Fields' function is super useful when you work with standard PDF forms like the ones we offer on our website. By clicking on it, you open its own dashboard where you can choose to create a text, date, number and other types of fields that can be included in the document. Here you can also sign the documents in a specialized field or simply add your initials to them.

When Your File Is Ready
Sure there's nothing else to do to improve your PDF document? Then click on the 'Save' button to keep the changes. This way, the edited document will be saved to your profile and ready for further action.
The Benefits of PDF Editor
PDF Editor is a free simple service the basics of which you can get with our simple instruction. Making quick edits in the documents, creating new documents on the basis of the old and outdated ones, adding your signature, date, or even an image to the file can be made in just a couple of clicks and won't take more than a few minutes. And don't forget about our database of PDF forms that you can change in a way that is most convenient for you.

Hear What PDFLiner Users Have to Say & Join Them Today
Now that I've switched from Word to PDFLiner, I save lots of time processing and digitally distributing tons of billing forms, work orders, forecast reports, and invoices. In addition to this, thanks to PDFLiner, we've significantly minimized our paper consumption. Excellent tool that helps me cope with my business workflow faster and easier.

PDFLiner allows me to streamline the processes of generating and managing legal documents, as well as collecting electronic signatures for all my contracts and agreements. I like that I can customize forms on the go and access PDFLiner from all my gadgets. No more printing or scanning! That's just brilliant!

When you're a student, you deal with PDFs a lot… Newsletters, various worksheets, official forms you need to fill in and sign, etc… To me, filling out a PDF form used to be among the trickiest and most time-consuming things ever. But then a friend of mine introduced me to PDFLiner, and oh my God, my life has changed since then. It's easy to use and has so many great features. Just awesome, I love it!