How to Lock a PDF For Free
Attach Documents From the Internet
Type the URL of the doc you want to add to PDFLiner. After that, feel free to edit, sign, and share it. We currently support PDF, JPG, and PNG formats.
Find Fillable Documents Below
Find the required form in our extensive library by typing its name or description in the search form below. After that, edit and customize it the way you see fit.
1

Upload your document PDF converter

2

Type anywhere or sign your form

3

Print, email, fax or export

4

Try it right now! Add text to PDF
The PDFLiner website provides the highest degree of protection to its customers and guarantees their data security so that you can safely work with documents of any importance. However, we understand how crucial it is to be able to protect your information further. That is why, among our online editor's multiple tools, you will find the option of setting a password for documents. You can lock a PDF file from viewing, editing, and sharing with other users without your knowledge. It's not difficult to do it; just follow our short step-by-step instructions.
Stepwise Manual to Protect your PDF

Protecting your documents with passwords allows you to restrict unauthorized access to them and prohibit unwanted users from performing certain actions on files. Without a password, other people will not be able to open locked PDF documents, edit, print, or comment on them. In some cases, extra caution is indispensable.
Step 1
For using our online editor and locking PDF from editing, you need to register. Enter your email address, create a password, read the terms of use for the service, and click 'Register.' If you already have an account on our platform, please log into it.
Step 2
You can work both with your own files and with forms from our extensive catalog. If you want to use your document on the main page, click the red 'Upload Document' button and select the file from your device. By the way, our service also supports the drag-and-drop feature, so you can simply drag the desired document into the upload window.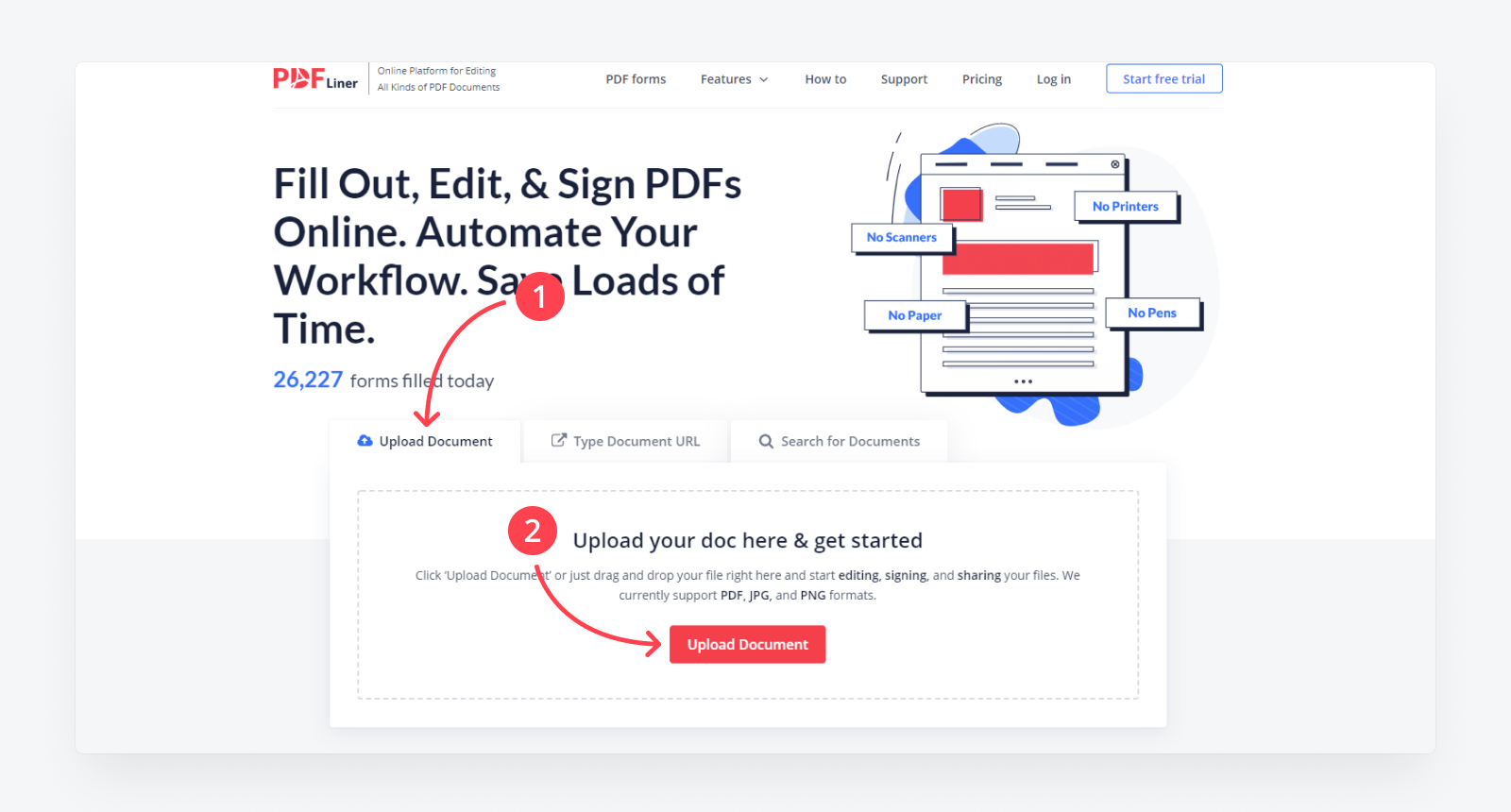 To find the form on our website, open the 'Search for Documents' tab right on the main page and enter the name you need in the search bar. Alternatively, you can go to the 'Forms' section and search for documents by category, such as 'Courts,' 'Legal,' 'Real Estate,' and others.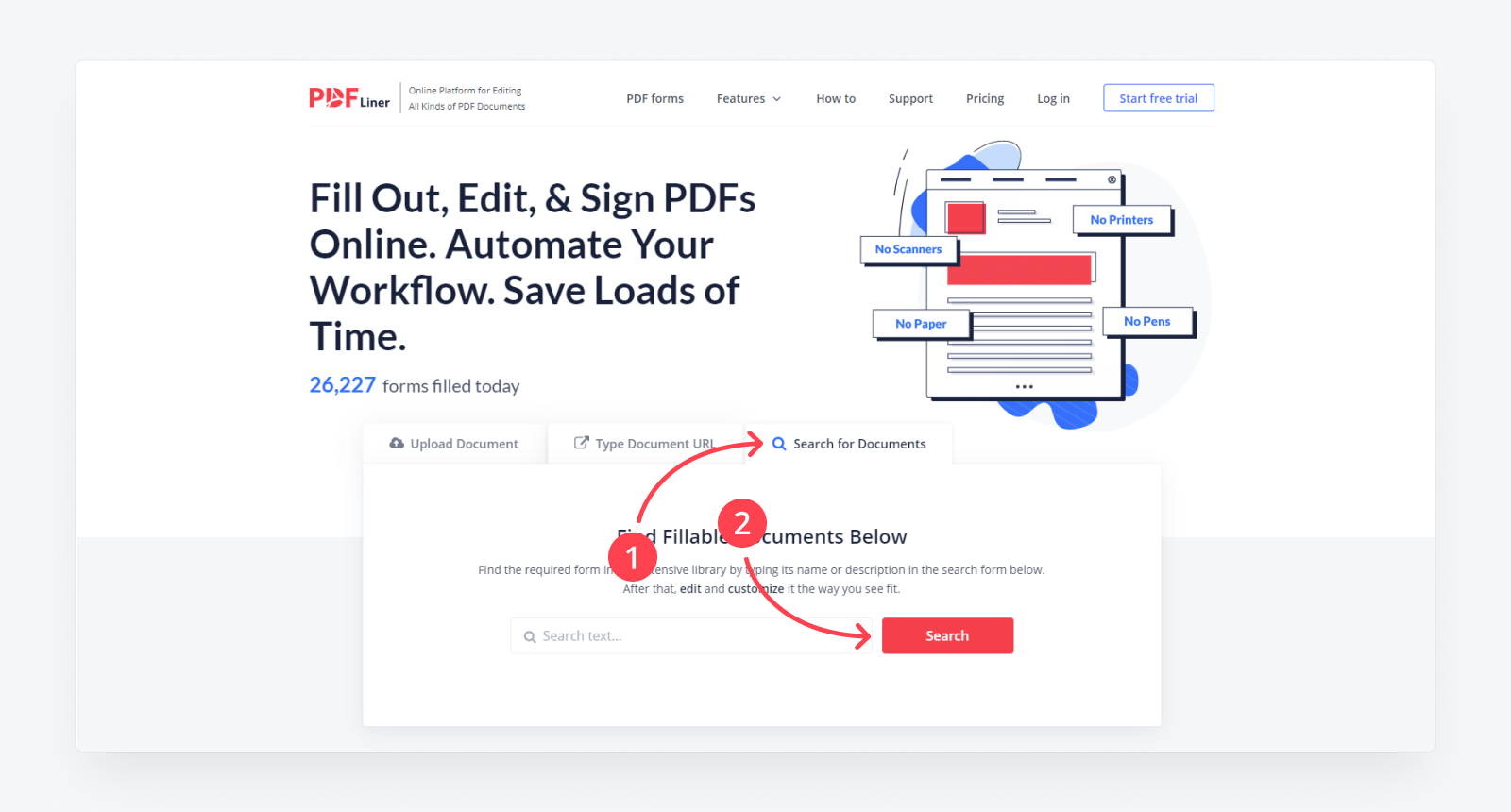 Step 3
Using the editor, fill out your PDF form, add additional fields or pages, edit it, and sign it (if necessary). Then, save the document by clicking on the 'Done' button in the screen's upper right corner.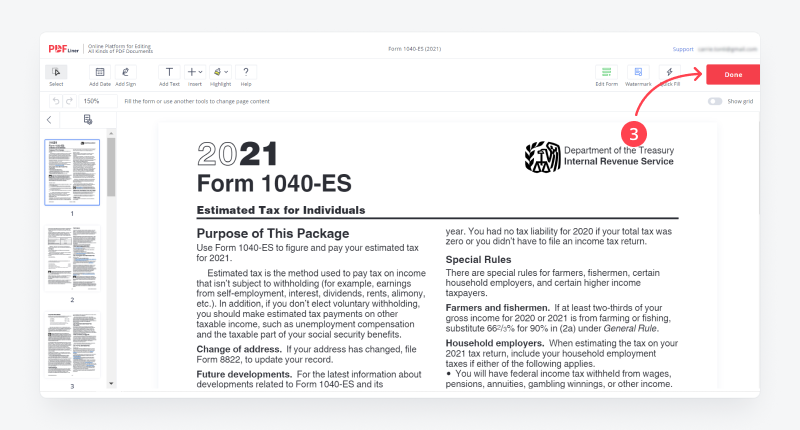 Step 4
After that, a pop-up window with possible further actions will appear. You need to select 'Go to MyDocs' to open a list of all files added to your account and save PDF with a password.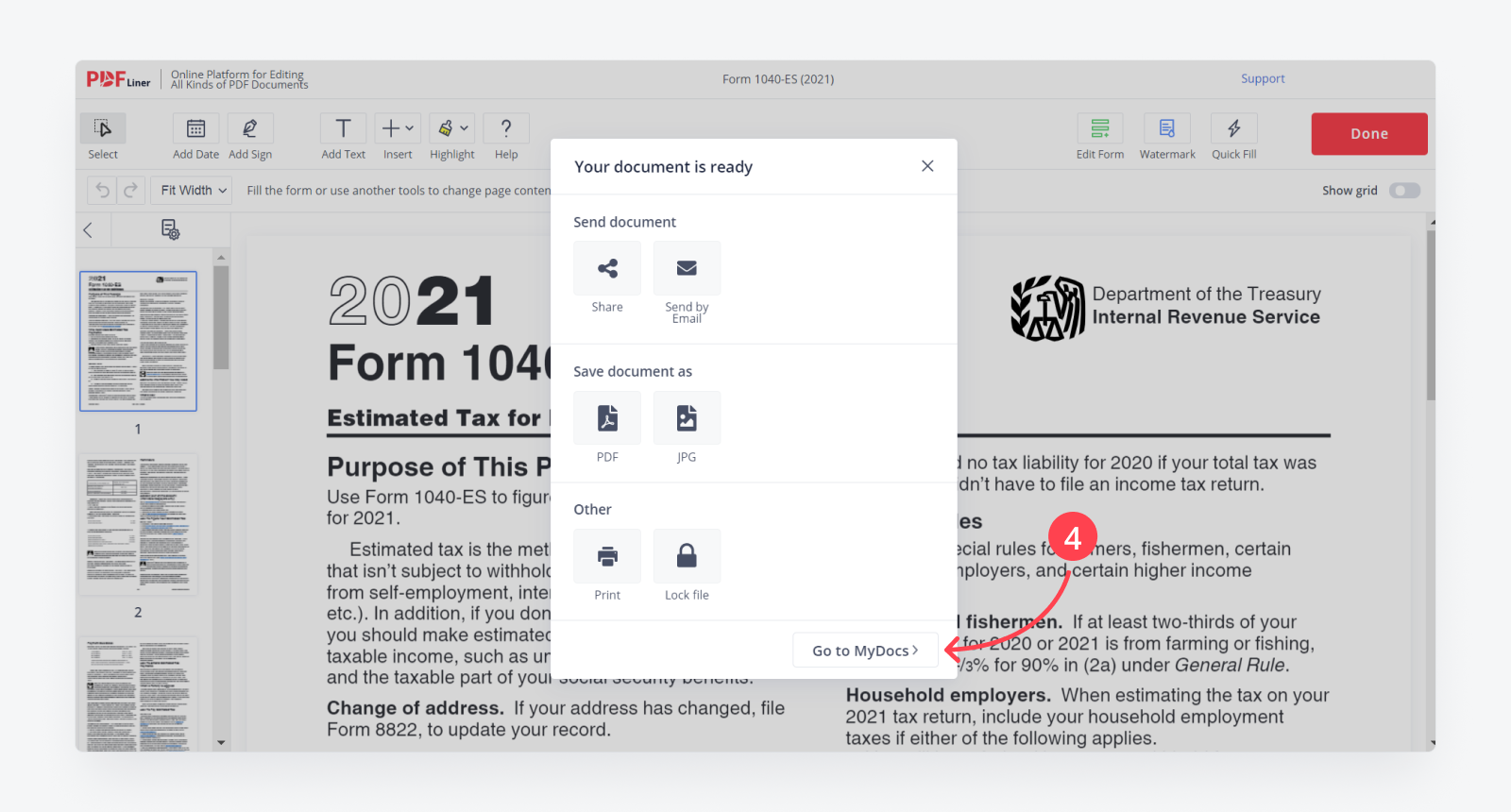 Step 5
Opposite each document, there are icons with some actions. To see the entire list, click the button with three dots. At the very bottom of the dropdown list, you will find the 'Lock file' option.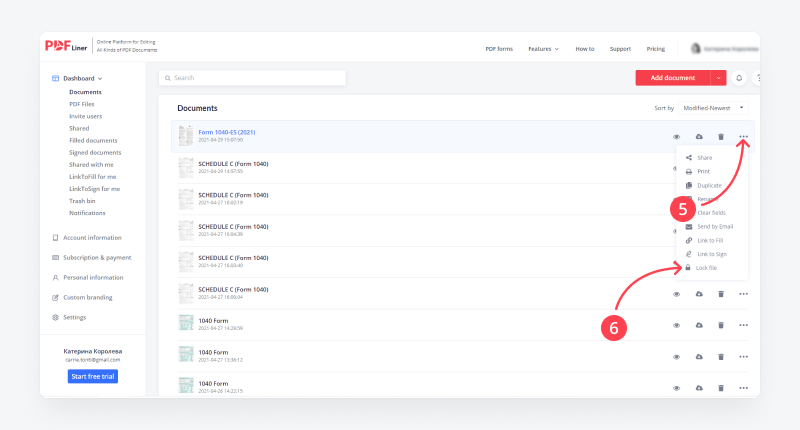 Step 6
After you click the 'Lock file' button, you will be asked to come up with a password to secure PDF files. Follow basic safety guidelines when drafting and combine numbers, symbols, uppercase, and lowercase letters to come up with a reliable combination. Enter the password twice in the window that appears and click 'Lock.' This way, you save it, and no one can use the protected PDF file except you.
Step 7
Now please note that a lock icon appeared next to the protected document. You can add a password to PDF docs that are already saved in your account. Repeat the described steps for each file for which you want to set a password. Now all your data is even more protected.
What You Can Do with Password Protected PDF Files
As you can see, protecting all your papers is pretty simple. To do it, you do not need to install any auxiliary software or sophisticated apps; you can find all the necessary tools in our editor. Setting a password only means additional data protection and not a complete blocking of it from modifying. Editing locked PDF files will still be available as usual.
All saved documents are stored in your account. Since PDFLiner is a web service, you can use your forms on any device: a smartphone, PC, or tablet. You have the opportunity to set a password for the form you need at any time. If necessary, you can unlock the required PDF files, removing protection, and allow other persons to use them. You can re-edit them, add pages, pictures, additional fields, send them by email, download them to your device in PDF or JPG formats, print them, or completely delete them from your account. You can also send a link to fill out the form or sign it to your colleagues and employees.
Password Protect Your Documents with Secure PDF Editor
Lock PDFs

Make the most of our security features, one of them being the possibility to password protect your documents.

Secure E-Signatures

Our 'Lock PDFs' and 'Verified Signature' tools allow you to elevate the protection of your e-signed docs to the max.

Monitor Your Locked PDFs

Enjoy the convenience of easily noticing and keeping tabs on your password protected PDFs with our smart lock icon.
Hear What PDFLiner Users Have to Say & Join Them Today
Now that I've switched from Word to PDFLiner, I save lots of time processing and digitally distributing tons of billing forms, work orders, forecast reports, and invoices. In addition to this, thanks to PDFLiner, we've significantly minimized our paper consumption. Excellent tool that helps me cope with my business workflow faster and easier.

PDFLiner allows me to streamline the processes of generating and managing legal documents, as well as collecting electronic signatures for all my contracts and agreements. I like that I can customize forms on the go and access PDFLiner from all my gadgets. No more printing or scanning! That's just brilliant!

When you're a student, you deal with PDFs a lot… Newsletters, various worksheets, official forms you need to fill in and sign, etc… To me, filling out a PDF form used to be among the trickiest and most time-consuming things ever. But then a friend of mine introduced me to PDFLiner, and oh my God, my life has changed since then. It's easy to use and has so many great features. Just awesome, I love it!