PDF to JPG converter For Free
Attach Documents From the Internet
Type the URL of the doc you want to add to PDFLiner. After that, feel free to edit, sign, and share it. We currently support PDF, JPG, and PNG formats.
Find Fillable Documents Below
Find the required form in our extensive library by typing its name or description in the search form below. After that, edit and customize it the way you see fit.
1

Upload your file

2

Type, edit, e-sign it

3

Download, print, email, or fax it

4

Get started now!
Converting a PDF to JPG: Your Step-by-step Guide
In PDFLiner, you can edit your files as you like: change the text, add electronic signature and watermark, renumber the pages, and so on. You can even add images and draw right in your document. And who knows, maybe what you've drawn in there deserves to become a separate picture. For this kind of situation (alongside many others), we offer free and easy online PDF to JPEG converter.
Step 1. If you need to convert PDF to JPEG, upload a PDF file from your computer or browse our database.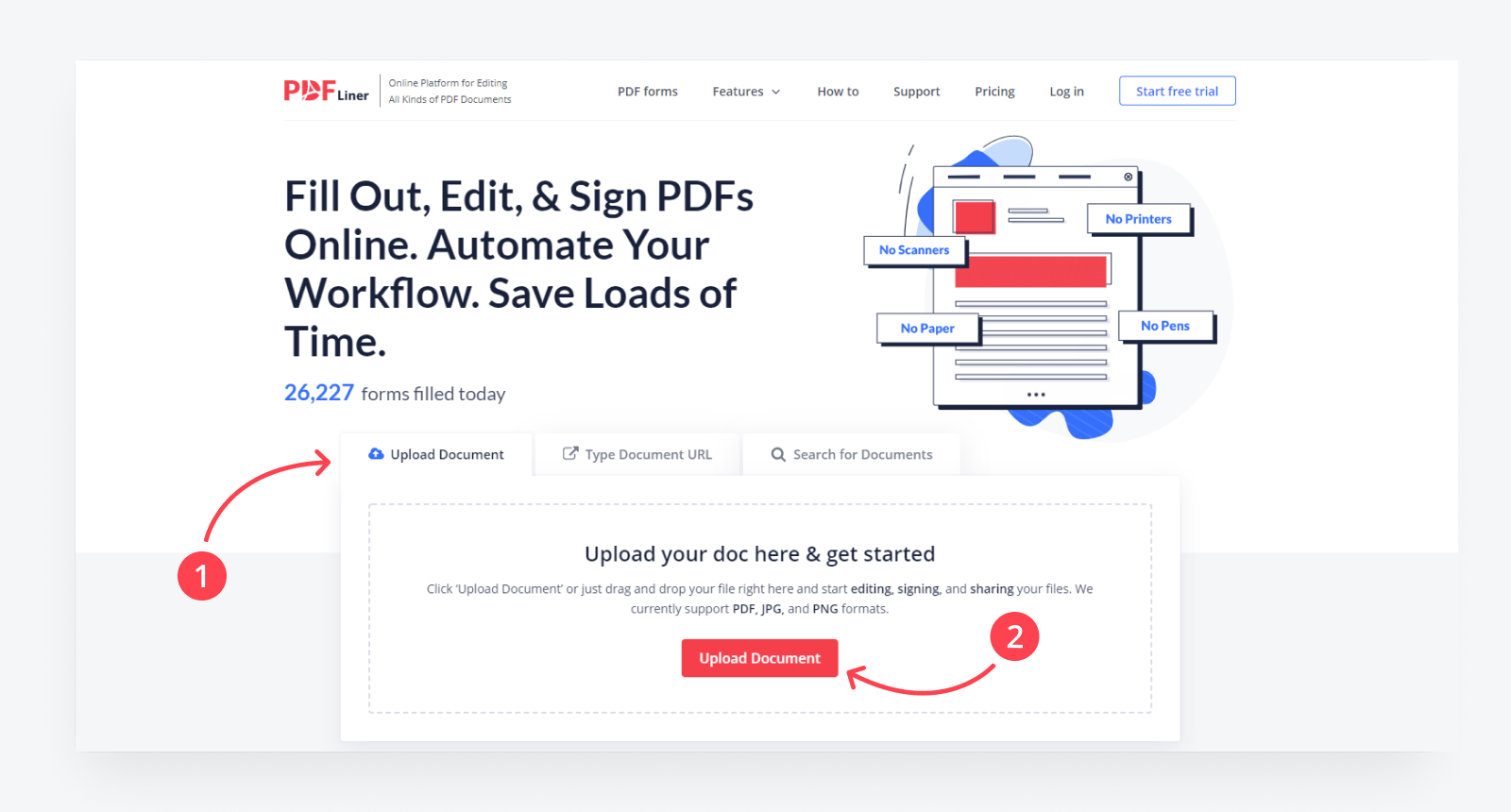 Step 2. When you uploaded or found the file you need and filled it, click on the 'Done' button in the upper right corner.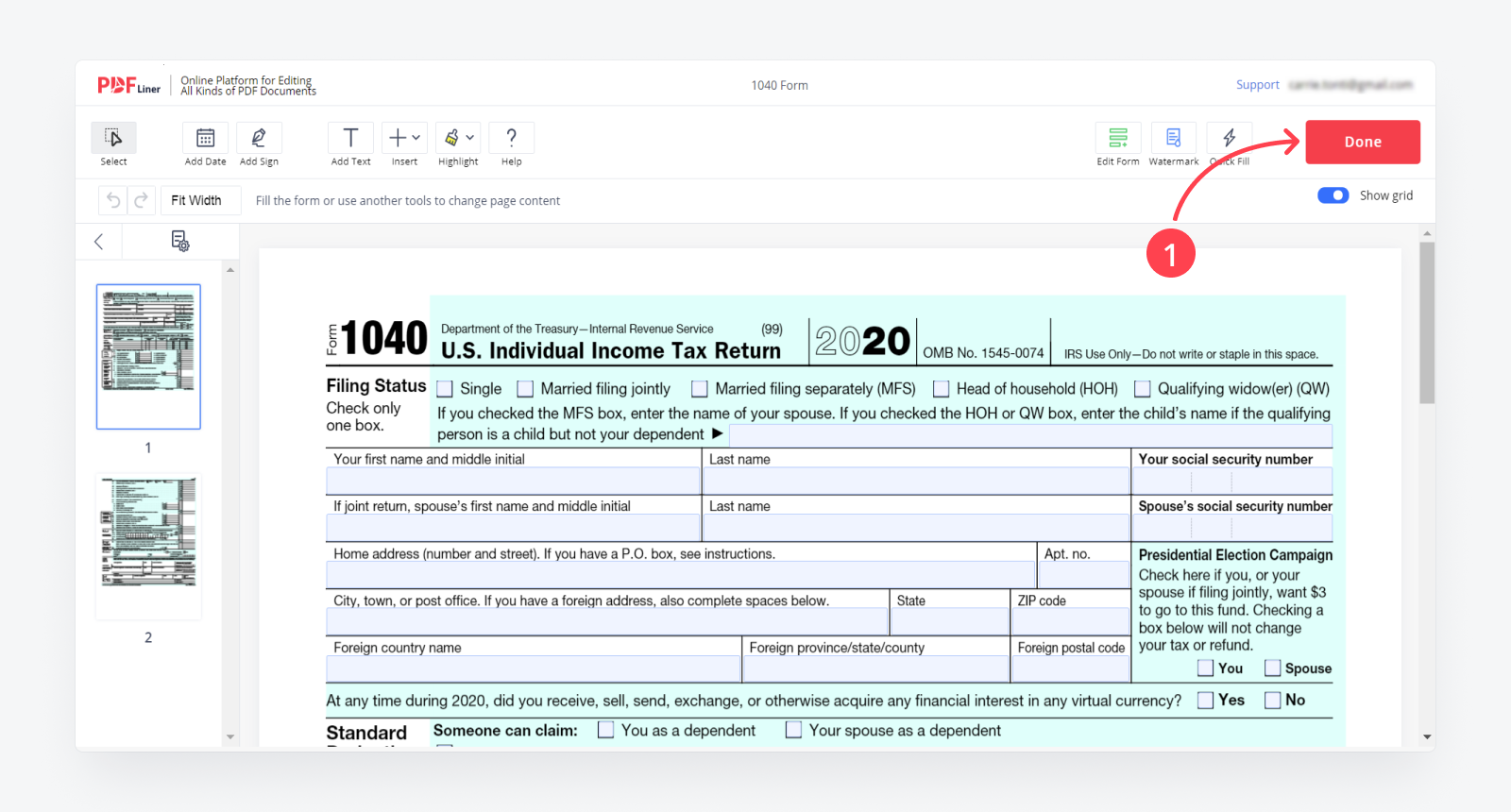 Step 3. In the pop-up window, you'll find a "Save Document As" section with different formats available for download and choose the JPG format.
Step 4. During the next 5 minutes, you'll get a letter containing a ZIP file on your email address. Then click on the "Download ZIP" button. Keep in mind that the link for downloading this ZIP file will be active only for 5 hours.
Step 5. In the "Downloads" folder, find the ZIP file (its title will be like that of the PDF form you've just converted) and unzip it into the folder you need. There'll be as many JPG files in the folder as there were pages in your PDF document.
PDF to JPG Converter FAQ
Is there an easy way of converting PDF to JPG on Windows 10?
The best way of converting PDF into JPG and other image formats is by using free online converters. PDFLiner is perfect for creating JPG files from your PDFs, but if you're interested in other image formats, you can try one of the PDFLiner alternatives.
Does converting PDF to JPG online and then downloading it harm my hardware?
No, such a process will not harm your hardware in any way. Just don't forget your regular software hygiene: use Antivirus, clear your cache and cookies from time to time and use licensed versions of your basic programs.

Hear What PDFLiner Users Have to Say & Join Them Today
Now that I've switched from Word to PDFLiner, I save lots of time processing and digitally distributing tons of billing forms, work orders, forecast reports, and invoices. In addition to this, thanks to PDFLiner, we've significantly minimized our paper consumption. Excellent tool that helps me cope with my business workflow faster and easier.

PDFLiner allows me to streamline the processes of generating and managing legal documents, as well as collecting electronic signatures for all my contracts and agreements. I like that I can customize forms on the go and access PDFLiner from all my gadgets. No more printing or scanning! That's just brilliant!

When you're a student, you deal with PDFs a lot… Newsletters, various worksheets, official forms you need to fill in and sign, etc… To me, filling out a PDF form used to be among the trickiest and most time-consuming things ever. But then a friend of mine introduced me to PDFLiner, and oh my God, my life has changed since then. It's easy to use and has so many great features. Just awesome, I love it!