How to Draw in PDFLiner For Free
Attach Documents From the Internet
Type the URL of the doc you want to add to PDFLiner. After that, feel free to edit, sign, and share it. We currently support PDF, JPG, and PNG formats.
Find Fillable Documents Below
Find the required form in our extensive library by typing its name or description in the search form below. After that, edit and customize it the way you see fit.
1

Upload your document PDF converter

2

Type anywhere or sign your form

3

Print, email, fax or export

4

Try it right now! Add text to PDF
Any modern PDF editor has a drawing tool that helps edit and add shapes or other drawings to your document. The PDFLiner is not an exception, so here's an instruction on how to draw on PDF using our online PDF drawing editor.
Why Should You Use a Drawing Tool?
A PDF drawer tool allows you to add several graphic elements to a PDF document. With it, you can emphasize different fragments of your document. Simply add shapes, forms, or draw lines on a PDF file.
Draw on Documents with PDFLiner
You can try and experience the PDF drawing app for free. The service provides 10 days of a free trial.
You can both draw on a new, empty file, upload your own document, or choose one of the existing free forms.
1. Log in using your email and password (or use login with your Gmail or Facebook account);
2. Find the "Add document' button near your user icon and choose a needed option of a file;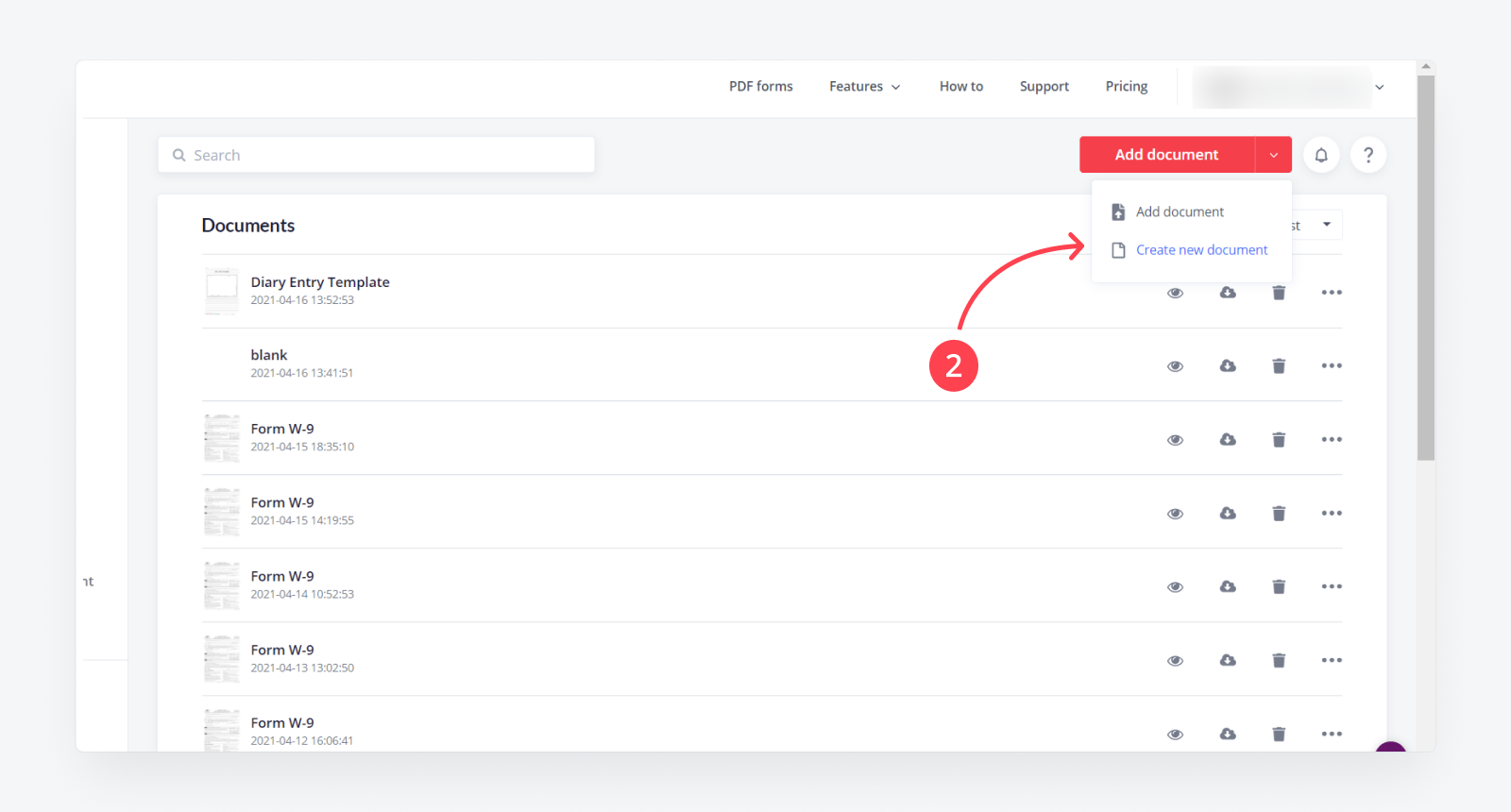 3. Open the document and click on the "Insert" button and choose a needed tool to draw on PDF.
You can add a ready-to-use form (cross, check, circle, arrow, line) or click on the "Draw" button to add a customized pattern.
Edit Your Drawing
You can change color and size or add a hyperlink to the shape or drawing you've inserted.
Using your touchpad or mouse, click on the drawing;
Under the main tool menu, you will find a set of features to edit your drawing.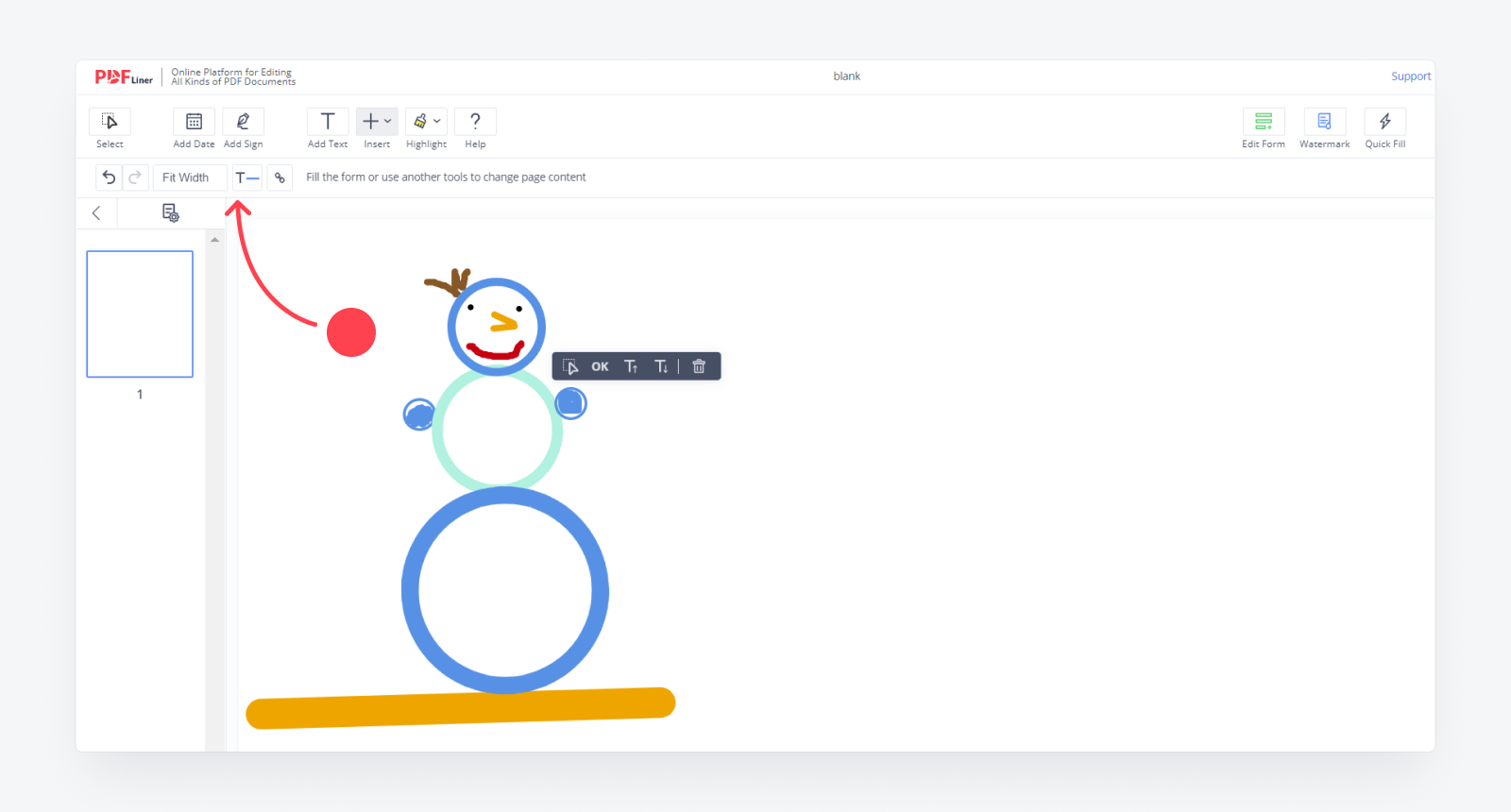 Fit width – change the size of your drawing;
Color change – select the drawing color or make a custom one using color palette;
Hyperlink – add a link to the inserted shape or form.
What Else Can You Do With a Drawing Tool?
The PDFLiner drawing tool contains an extremely useful features kit. Besides adding shapes and forms or drawing a custom image, you can also insert a picture from your Windows or Mac PC/laptop.
To do it, you should:
Click on the "Insert" button and select "Add image."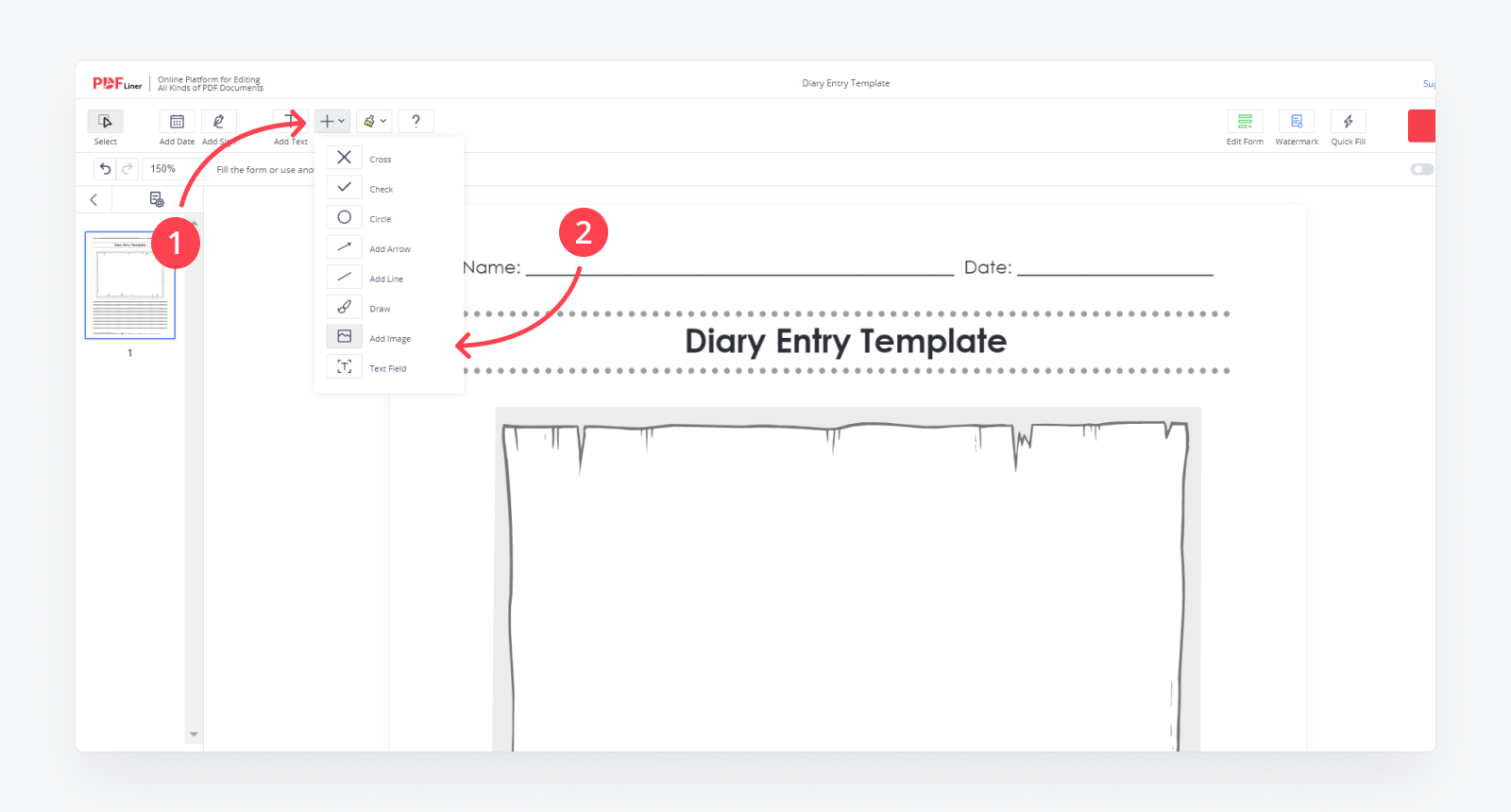 The Image Wizard by PDFLiner has two options of adding a picture to the document: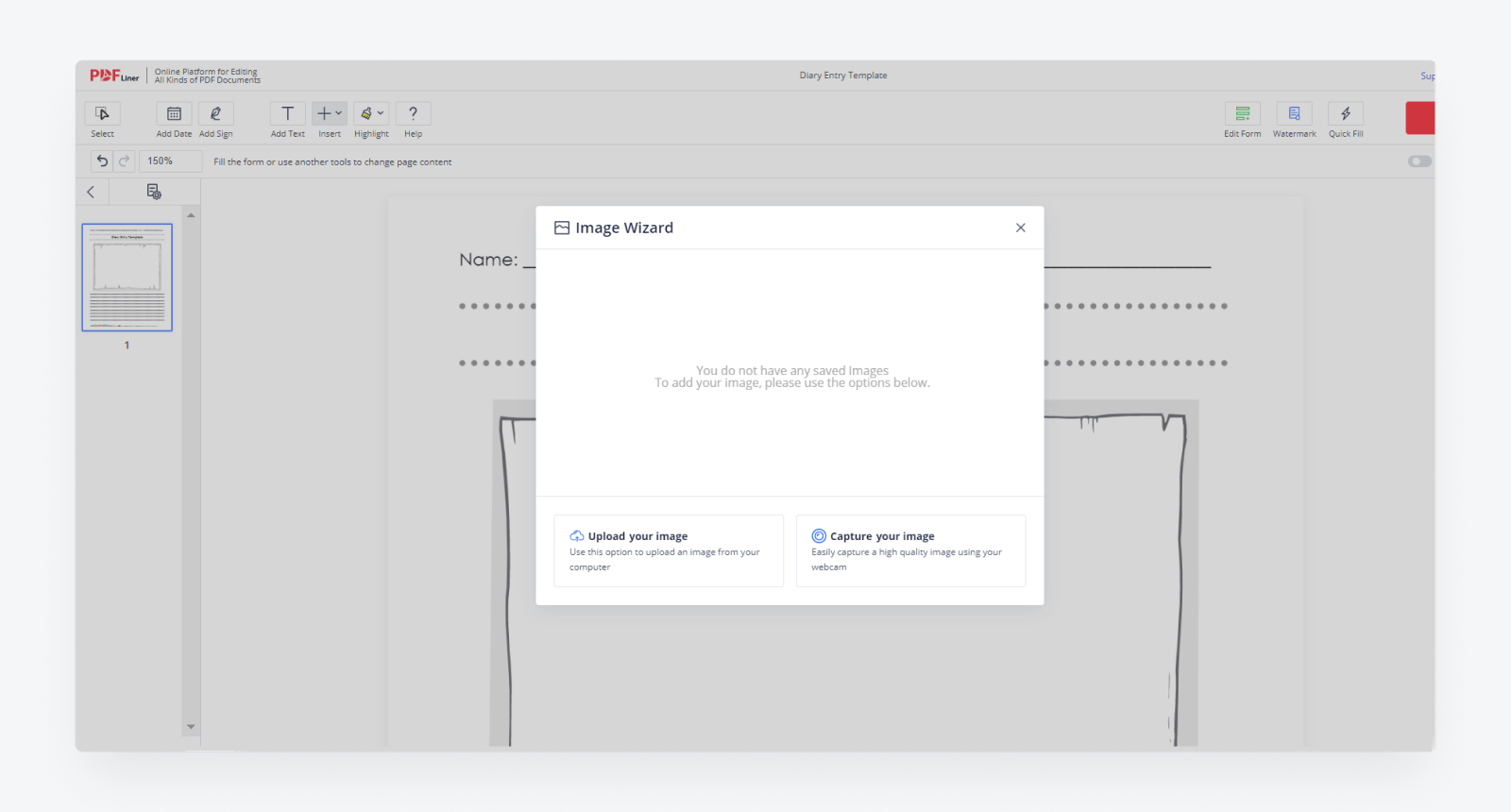 Upload from the desktop;



Capture with a webcam.



Use this feature if you need to complete your PDF file with a ready-made picture or take a high-quality photo with a web camera. It's easy and can be done within a few minutes.
Another helpful utility of the "Insert" button is the Text field option.
To add a section with text, follow this instruction:
Using your mouse or touchpad, click on the "Text field" option twice
Replace or change the size of the field;
Add the needed text or copy and paste the existing piece;
Press "OK" when you're satisfied with the result.
Frequently asked questions
PDFLiner is a service that makes working with a mass of documents easier and faster. The service was developed to help workers and ordinary users deal with fillable PDF forms, creating and editing documents online with an opportunity of quick sharing and signing the files. The PDFLiner platform provides three options of subscription. However, if you want to complete several documents one time, you can use our 10 days free trial. All of the features are available for this period for free as well.

What are the system requirements for PDFLiner?

Since PDFLiner is a PDF drawing app that works online, all you need is a stable Internet connection. Make sure that the signal of your network is strong and won't cause any errors during document editing.

How to draw on a PDF document?

It is easy to draw on documents using our online service. Follow the instructions and guidelines in this article. In case you experienced any issues with our drawing tool, make sure to contact us using the Support tab.

Who can use the PDFLiner drawing feature?

PDFLiner is created to help you deal with different kinds of documents and forms. You can use our extensive library of official IRS files with detailed guides to fill your tax, insurance, and other documents quickly. We also provide editing school and university papers, non-profit documents, real estate, human resources, and many more types of fillable PDF that you can find online. PDF drawing and editing are easy if you don't have to complete the forms on paper.

Follow the instruction and choose "Insert" and "Add line". After you placed the line wherever you need, you can change its length and color.
Have more questions? Contact Support
Solve all your problems with Secure ESign
Find Forms Fast

Via PDFLiner, you will easily find the most frequently used construction-related forms, such as engineering reports, invoices, job applications, etc.

Go Mobile

Our online document management tool is accessible across all platforms. With PDFLiner, you can complete construction forms, send invoices, and collect signatures on-site right from your mobile.

Save Precious Time

By making the most of our smart online editor, you will save lots of time completing and annotating construction forms. No more paper-based time-consuming reports.

Add Valid E-Signatures

Collect and add electronic signatures to your PDFs on the go. They are completely valid and bear the same legal status as handwritten signatures.

Keep Your Records Secure

PDFLiner is a 100% secure shared central repository of information that caters to the most complex engineering projects.

Host Fillable Forms

Collect job application forms, project forms, as well as templates of construction contracts by embedding links to fillable forms on your corporate website.
Hear What PDFLiner Users Have to Say & Join Them Today
Now that I've switched from Word to PDFLiner, I save lots of time processing and digitally distributing tons of billing forms, work orders, forecast reports, and invoices. In addition to this, thanks to PDFLiner, we've significantly minimized our paper consumption. Excellent tool that helps me cope with my business workflow faster and easier.

PDFLiner allows me to streamline the processes of generating and managing legal documents, as well as collecting electronic signatures for all my contracts and agreements. I like that I can customize forms on the go and access PDFLiner from all my gadgets. No more printing or scanning! That's just brilliant!

When you're a student, you deal with PDFs a lot… Newsletters, various worksheets, official forms you need to fill in and sign, etc… To me, filling out a PDF form used to be among the trickiest and most time-consuming things ever. But then a friend of mine introduced me to PDFLiner, and oh my God, my life has changed since then. It's easy to use and has so many great features. Just awesome, I love it!