Document Writer Online For Free
Attach Documents From the Internet
Type the URL of the doc you want to add to PDFLiner. After that, feel free to edit, sign, and share it. We currently support PDF, JPG, and PNG formats.
Find Fillable Documents Below
Find the required form in our extensive library by typing its name or description in the search form below. After that, edit and customize it the way you see fit.
1

Upload your file

2

Type, edit, e-sign it

3

Download, print, email, or fax it

4

Get started now!
How to Add Text to a PDF With PDFLiner Document Writer Online
Our service lets you edit your PDF files in various ways with a set of tools that are intuitive and essential. PDF liner provides opportunities for working on your documents online, synchronizing the editing process with other users and acting independently of printers, scanners, and fax machines.
The basic instrument of any online editor is text. So let's learn a bit more about this tool and how it works in PDFliner.
Step 1. 'Text' is probably the first icon you see on your dashboard after uploading the document meant for editing. It's situated in the upper left corner of your screen and has a big letter 'T' on it.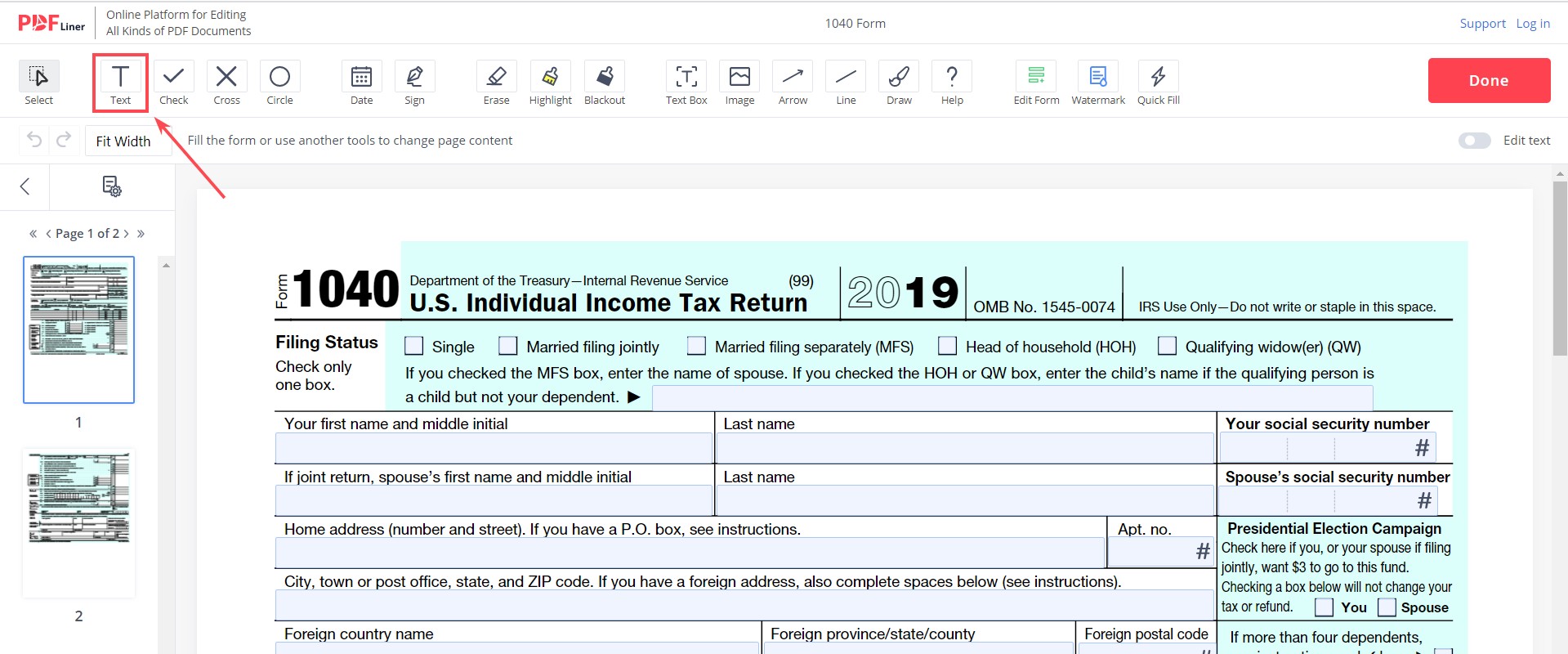 Step 2. After choosing it with a click, you'll be able to set the cursor anywhere in the document and add some text there.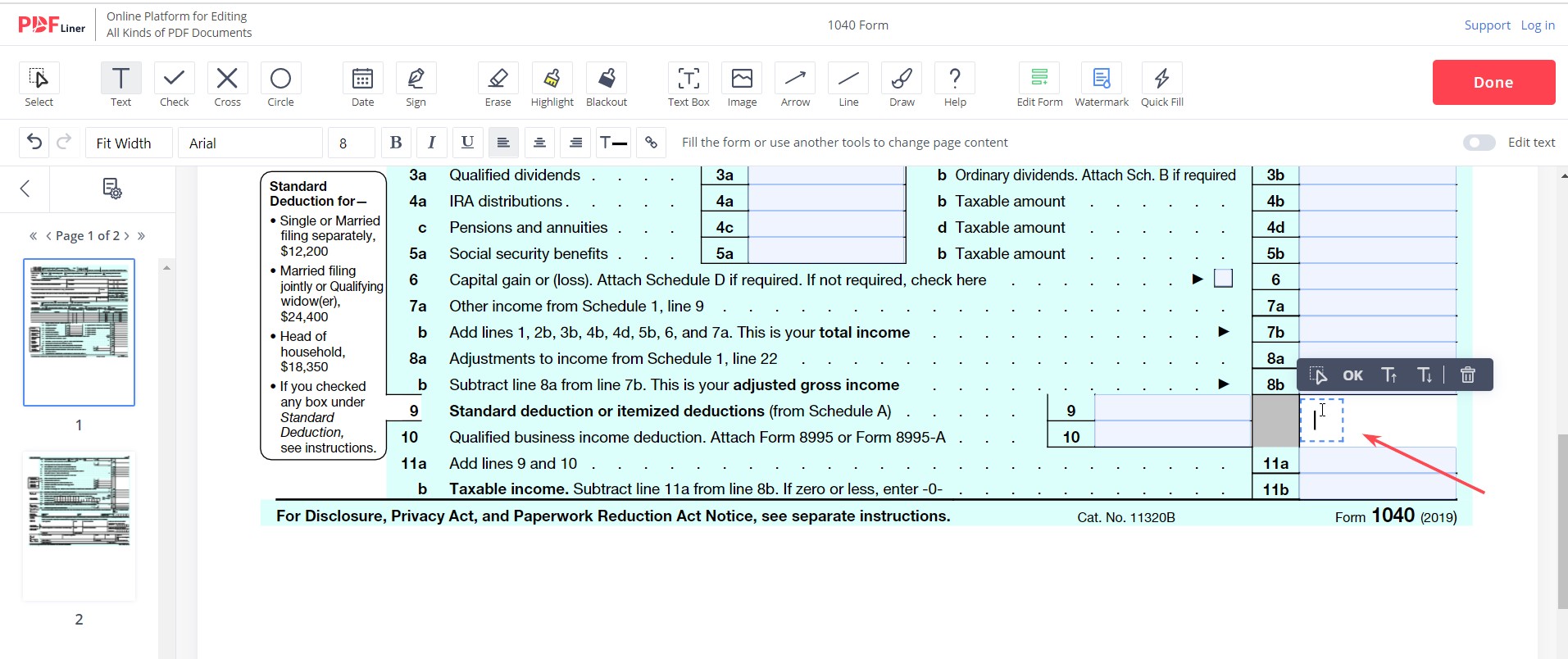 Step 3. There is a cursor menu that lets you make quick edits: make the text bigger or smaller, move it across the document, and even delete it without a trace. If you accidentally deleted the text through that menu, don't worry. It can easily be recovered with one click of a backup button that's also situated in the upper left corner of your screen.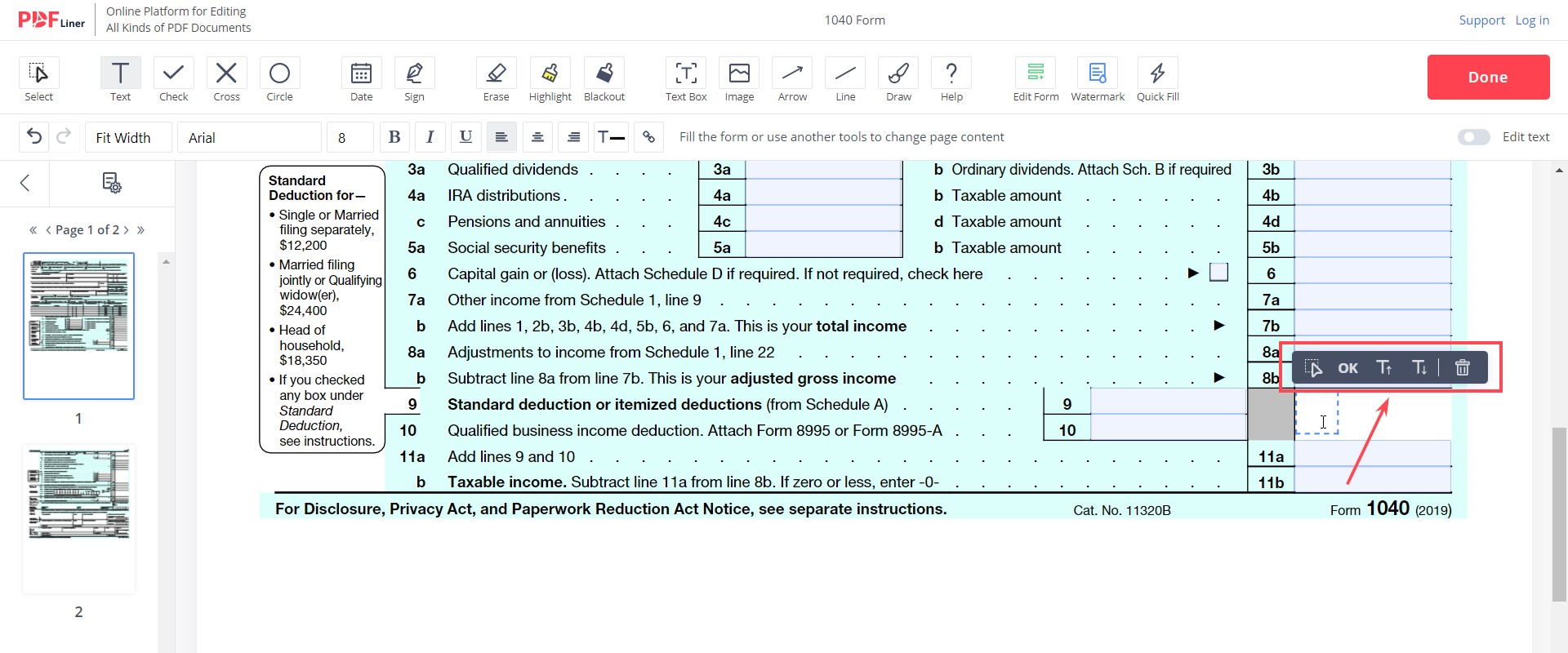 Step 4. Besides the cursor menu, there's also a full text menu that appears in an additional dashboard section when you place the cursor in the document. In it, you can alternate the viewing scale of the document you're working on, change the size and font of your text, change its style to bold or italic, underline and cross it, change its placing on a page and insert a link into it.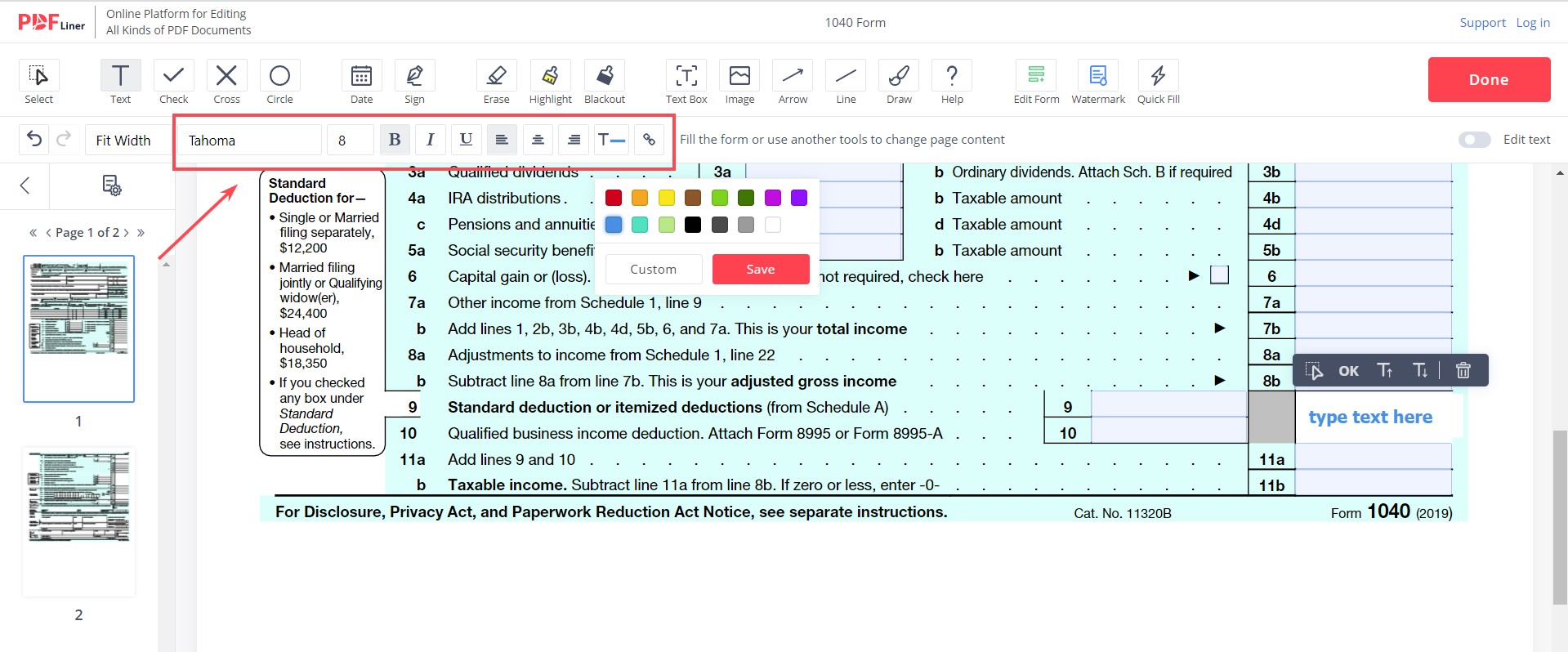 Step 5. To insert a hyperlink into your text, click on the icon in the formatting panel. In the pop-up window, add the link you need. To check if the link is correct, click on the "Test" button. To add a hyperlink after the testing, click "Save".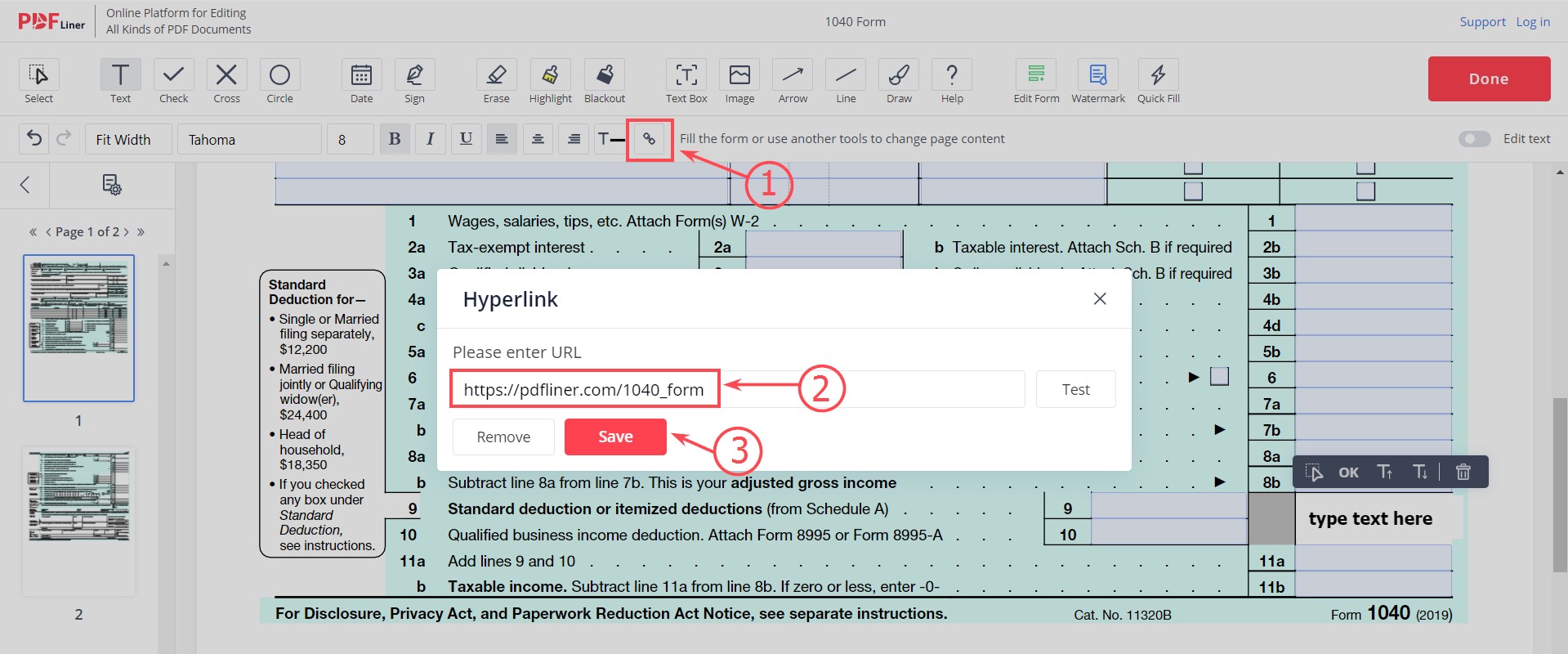 Step 6. If you want to cancel all the changes that have been made to the document, click on the arrow right below the dashboard.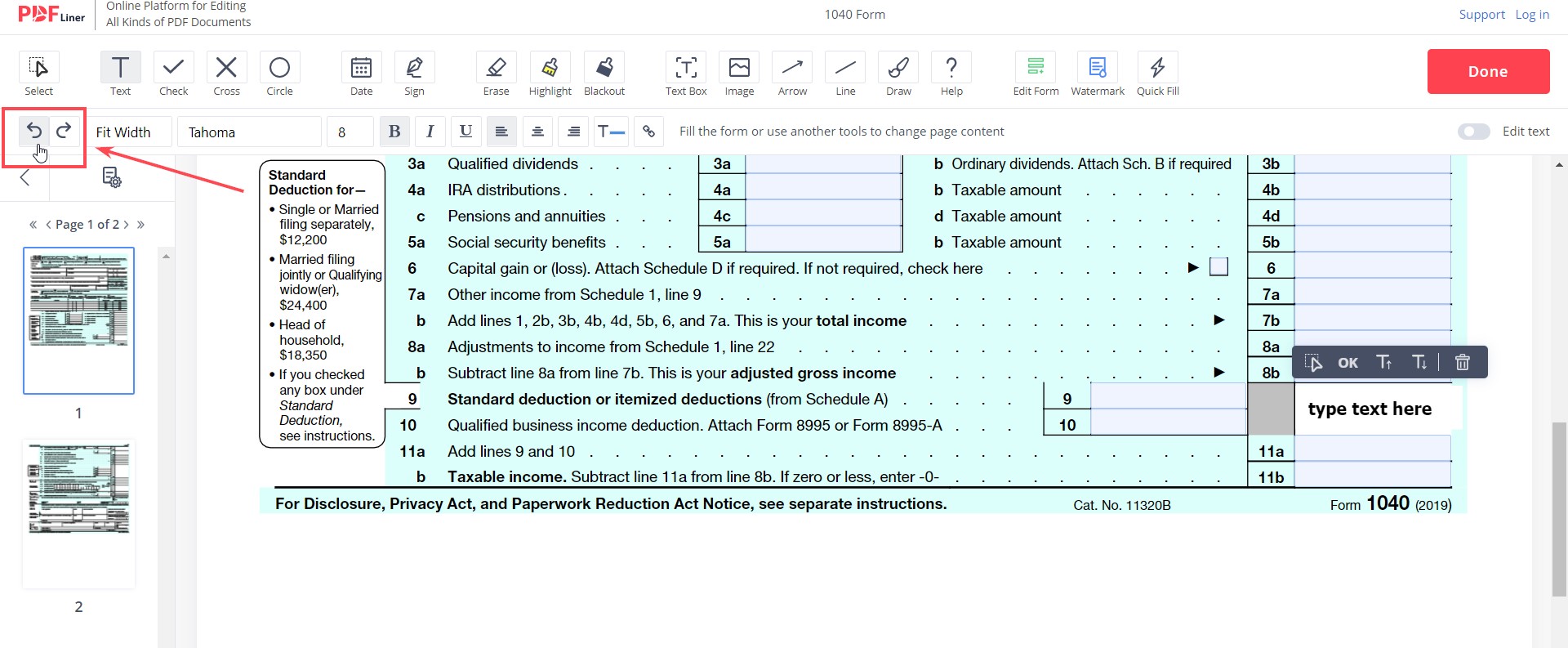 Step 7. After your text is edited and ready to be downloaded, shared, or saved in our storage, click the 'Done' button in the upper right corner of your screen. You'll be redirected to your profile page right away with a ready-edited document stored in your archive.

Adding Text to a PDF: FAQ
1. Can a newbie user add text to PDF?
With PDFLiner, the user of any level can easily edit their document in any way, including writing and adding text to its fields. If you're not sure how to do that, re-read the instruction above.
2. Where can I get PDF writing freeware?
There are numerous PDF writing tools available online. PDFLiner offers free 10-day trial, so if you don't need a lot of documents edited, you can edit your documents with us. If you're looking for a free PDF writing service that won't go paid with time, check out the list of PDFLiner alternatives.
Hear What PDFLiner Users Have to Say & Join Them Today
Now that I've switched from Word to PDFLiner, I save lots of time processing and digitally distributing tons of billing forms, work orders, forecast reports, and invoices. In addition to this, thanks to PDFLiner, we've significantly minimized our paper consumption. Excellent tool that helps me cope with my business workflow faster and easier.

PDFLiner allows me to streamline the processes of generating and managing legal documents, as well as collecting electronic signatures for all my contracts and agreements. I like that I can customize forms on the go and access PDFLiner from all my gadgets. No more printing or scanning! That's just brilliant!

When you're a student, you deal with PDFs a lot… Newsletters, various worksheets, official forms you need to fill in and sign, etc… To me, filling out a PDF form used to be among the trickiest and most time-consuming things ever. But then a friend of mine introduced me to PDFLiner, and oh my God, my life has changed since then. It's easy to use and has so many great features. Just awesome, I love it!