Creating PDF Documents in PDFLiner For Free
Attach Documents From the Internet
Type the URL of the doc you want to add to PDFLiner. After that, feel free to edit, sign, and share it. We currently support PDF, JPG, and PNG formats.
Find Fillable Documents Below
Find the required form in our extensive library by typing its name or description in the search form below. After that, edit and customize it the way you see fit.
1

Upload your document PDF converter

2

Type anywhere or sign your form

3

Print, email, fax or export

4

Try it right now! Add text to PDF
The ability to create PDF files in just several clicks is crucial to many occupations these days, given how ubiquitous the format has become. PDFLiner's intuitive interface offers an all-around solution that has every chance of meeting the needs of even highly demanding users.
How to Generate a PDF with PDFLiner: A Step by Step Guide
Sign up by clicking the Login button
Selecting Register to enter your new username and password

When signed up and logged in, access the My Documents section of your profile

In the top right corner of the page, choose the Add Document drop-down list and select the "Create new document" option

Proceed to fill your blank PDF file with content (see below for details).

PDF Content Options
Now that you know how to make a PDF document using PDFLiner, it's time to explore some of the platform's features.
Add Text
By clicking the Add Text button on the toolbar in the top part of the create-a-pdf window, you can place a text field anywhere in your document to type in PDF files. Just right-click the desired position for your text and start typing. When you are done, select OK in the text field's menu. Please note that you can play with the font size and other text parameters.
The same instrument can be used if you need to add page numbers to an existing form.
Add a Signature
If you need to sign your PDF document online using an electronic signature, select the Add Sign option on the toolbar.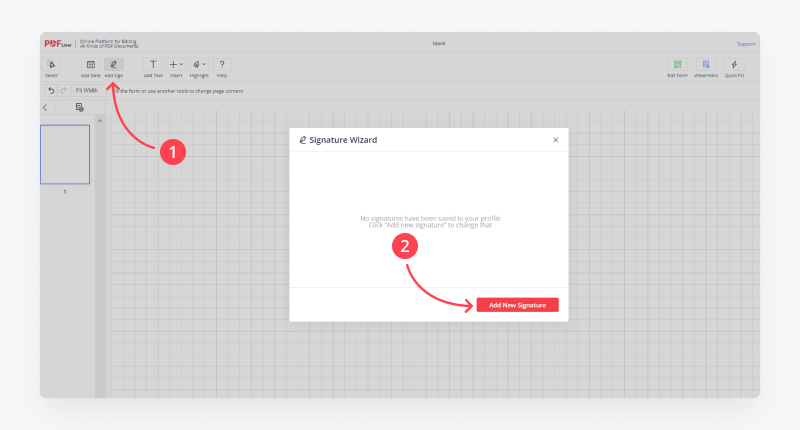 A screen will appear with multiple e-sign options to choose from that are both secure and legal. You can draw a signature by hand or insert an image file with a photo of your signature. As a returning user, you might also want to save your signature in case you need it later.
Add a Date
Click the Add Date button on the toolbar if you need a data field that uses the date format for convenience. This can be a time saver for those interested in filling in PDF forms online or creating ones for others to fill in.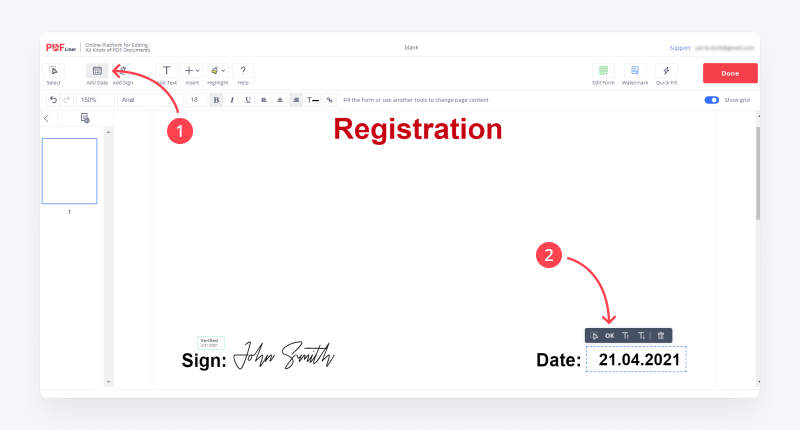 Annotate and Edit
If you are to annotate a PDF file as a reader or reviewer, select the Highlight drop-down menu on the toolbar to choose one of the three most common instruments used to get others' attention when cooperating on a document.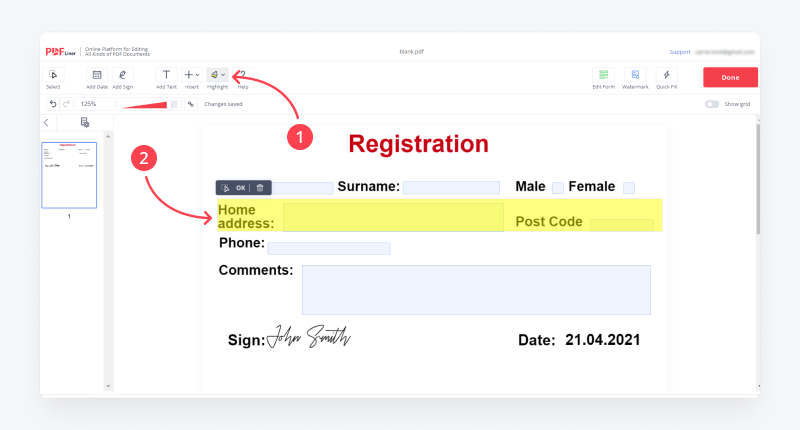 Alternatively, you can use the Insert button to add doodles and symbols like bullet point marks to your document. This can be especially useful if you want to convert the PDF to JPEG later on.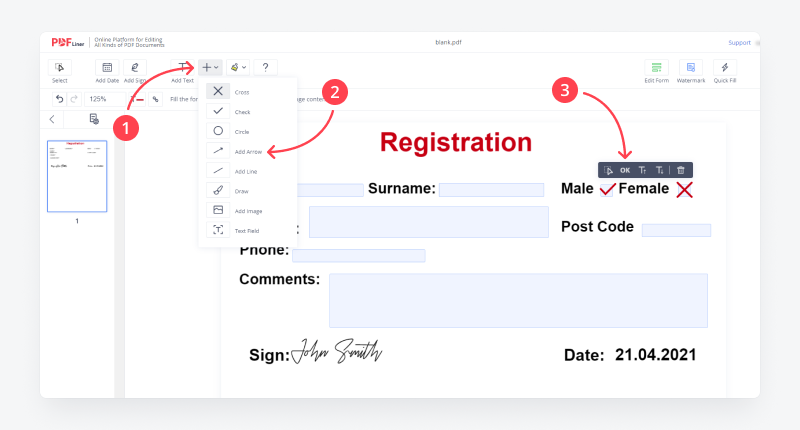 Finally, you can use PDFliner to add watermarks to your files.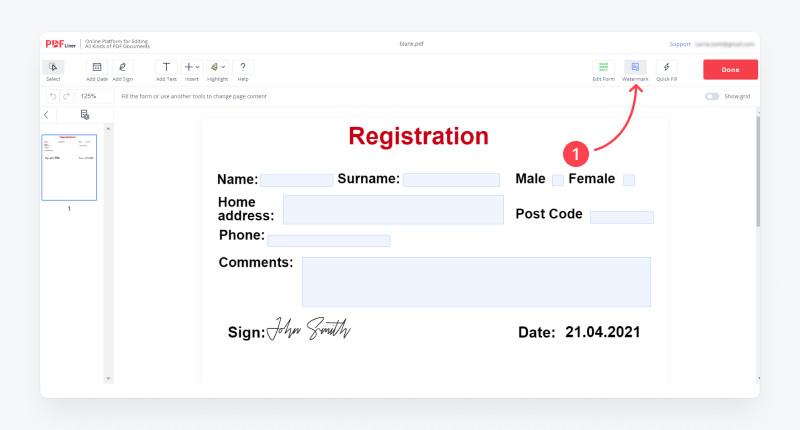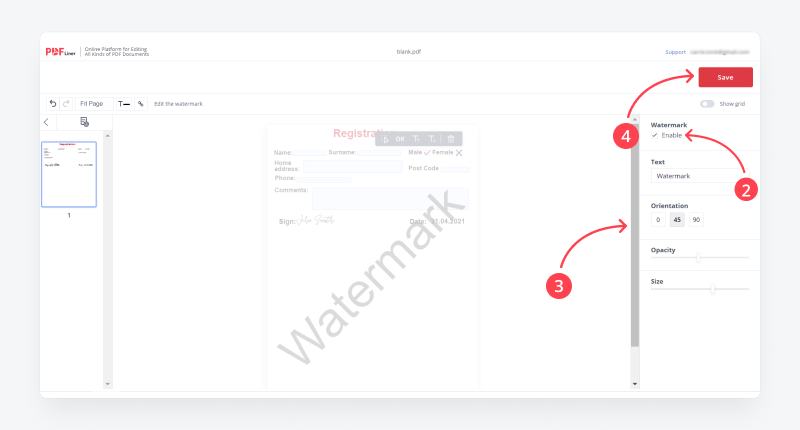 What to Do After Creating a PDF Document
Being a registered user, you can save any PDF file you have created for future use and editing. You can then access it via My Documents when logged into your account.
Alternatively, you might want to download it to your device. PDFLiner offers two download formats to choose from, PDF and JPEG, the latter being a common choice for image-like content.
If you need to send the resulting document to others, use the email or share option to spare yourself the downloading step and save time.
Make Your Own PDF with Online PDF Creator
Create Fillable PDF Templates

Make a PDF template to suit your most exact needs whenever you need. With our online service, it's a piece of cake.

Make Your Files Fillable

Add fillable PDF fields to your files for the purpose of sending them to your clients or partners for signature.

Create Interactive Checklists

Checklist PDF files of your choice whenever you wish with our online document editor. The possibilities are endless.

Add Brand Identity

Make the most of the 'Create Document' tool to incorporate your unique brand identity into your files (e.g. add logos, use company colors, etc.)

Get All Creative

Enjoy using PDFLiner to create memes, gift certificates, a variety of file templates, etc.

Share Your Documents

Share the created document with your clients, colleagues and friends, or invite them to create a PDF together.
Hear What PDFLiner Users Have to Say & Join Them Today
Now that I've switched from Word to PDFLiner, I save lots of time processing and digitally distributing tons of billing forms, work orders, forecast reports, and invoices. In addition to this, thanks to PDFLiner, we've significantly minimized our paper consumption. Excellent tool that helps me cope with my business workflow faster and easier.

PDFLiner allows me to streamline the processes of generating and managing legal documents, as well as collecting electronic signatures for all my contracts and agreements. I like that I can customize forms on the go and access PDFLiner from all my gadgets. No more printing or scanning! That's just brilliant!

When you're a student, you deal with PDFs a lot… Newsletters, various worksheets, official forms you need to fill in and sign, etc… To me, filling out a PDF form used to be among the trickiest and most time-consuming things ever. But then a friend of mine introduced me to PDFLiner, and oh my God, my life has changed since then. It's easy to use and has so many great features. Just awesome, I love it!