Online Fillable PDF Forms For Free
Attach Documents From the Internet
Type the URL of the doc you want to add to PDFLiner. After that, feel free to edit, sign, and share it. We currently support PDF, JPG, and PNG formats.
Find Fillable Documents Below
Find the required form in our extensive library by typing its name or description in the search form below. After that, edit and customize it the way you see fit.
1

Upload your document PDF converter

2

Type anywhere or sign your form

3

Print, email, fax or export

4

Try it right now! Add text to PDF
How to Make PDF Forms Fillable
PDFLiner is the service for ultimate PDF editing without wasting time on switching between multiple software and extra printing and scanning devices. You're free to transform any uploaded PDF document to your liking. You're also welcome to work with files from our database. With such useful tools as adding text, images, signatures alongside the possibilities of changing file formats, the process of working on your PDF documents becomes smooth and enjoyable.
With our online dashboard, any document you want to work on becomes your space for various changes. This means you can make any PDF form fillable by adding extra fields and open the already present ones for editing.
To add extra fields for filling out and use the whole set of tools that come with this instrument, you need to upload a PDF document yourself or choose one of the forms provided by PDFLiner.
Step 1. If you want to work with a file that's not in our database, choose one of the two ways:
1.1. Choose the "Upload Document" tab on the main page and click on the button by the same name. After that, choose the file you need. It'll be uploaded in a second.
1.2. Choose the "Type Document URL" tab, insert the URL of the PDF file you need and click on the "Fill Now!" button.
Step 2. If there are no fields to fill in the form you uploaded, you can add them yourself. You're free to add fields for text, number, date, image and marks. To access all that, click the "Edit Form" button on your dashboard.
Step 3. To add a text field, click the "Text Field" button on your dashboard.
Place the field by clicking anywhere you want in the document.
You can change the size of the field by dragging its corner.
Click the "ОК" button in the quick menu to keep the field in its place.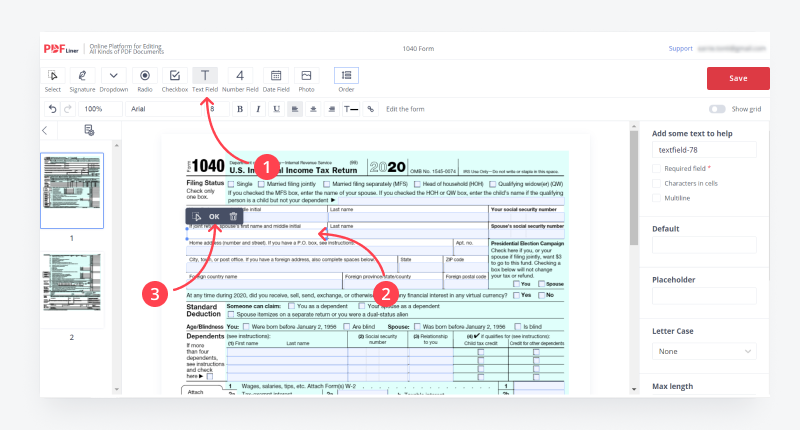 Step 4. To add a number field, you have to click the "Number Field" button on the dashboard.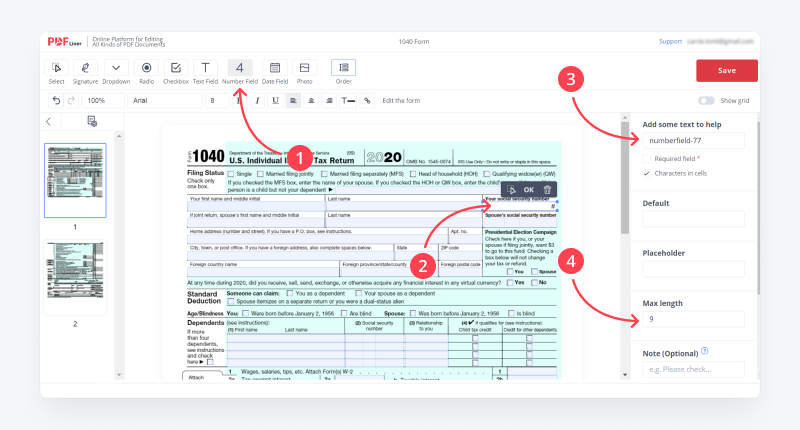 Note: If you need the number field divided into cells, tick the "Characters in cells" in the dashboard on your right and write the number of the cells you need in the "Max length" field.
Step 5. The same scheme works for adding signature (A), mark (B) and date (С) fields.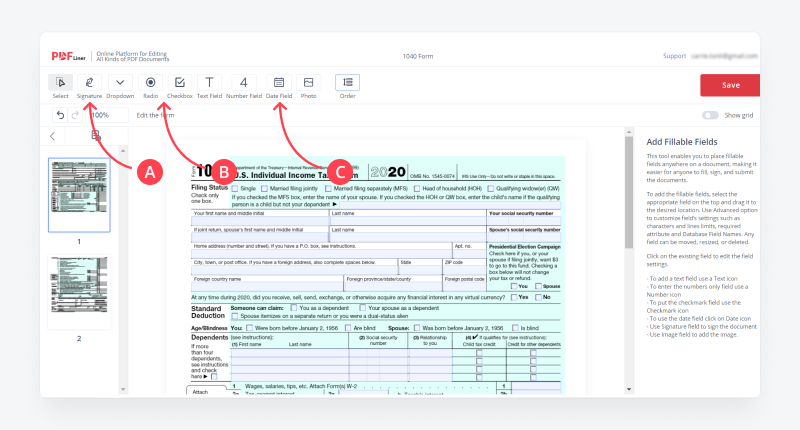 Step 6. To add an image, click the image icon on the dashboard and then click "Image" to place the picture where needed.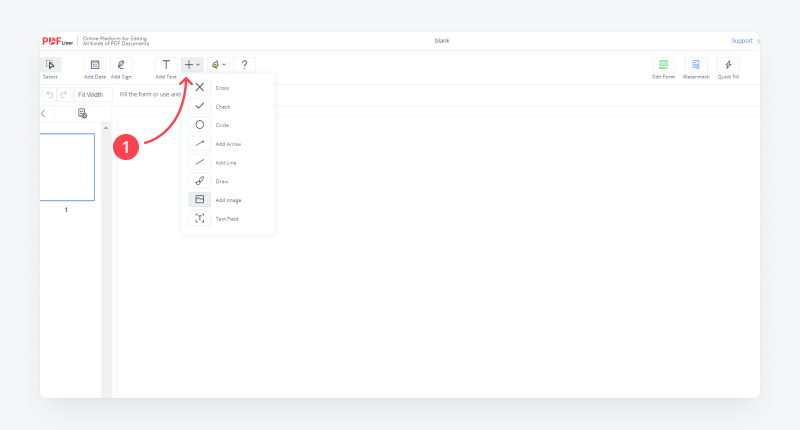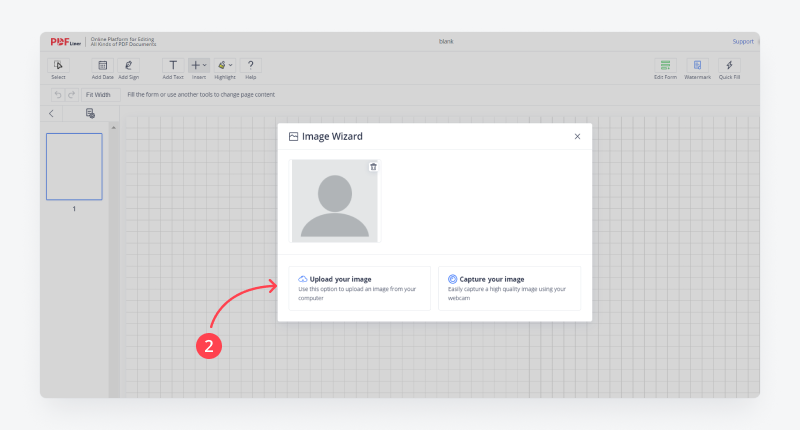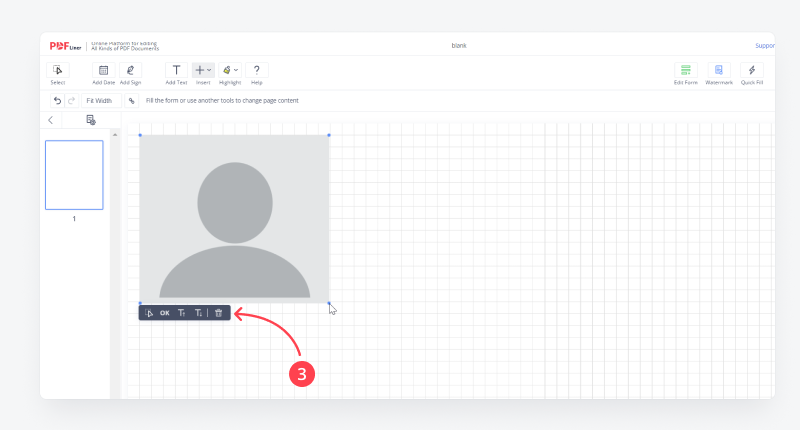 Step 7. Now you can save your fillable document and share it with other users along with an invitation to complete it. To make it available for you and your co-workers, find the red 'Save' button in the upper right corner of your screen, click it and operate the file from your PDFLiner profile. After that you can start filling your form in.
Step 8. After you added all the data required, click "Done". Your form is filled and ready to be printed or sent electronically.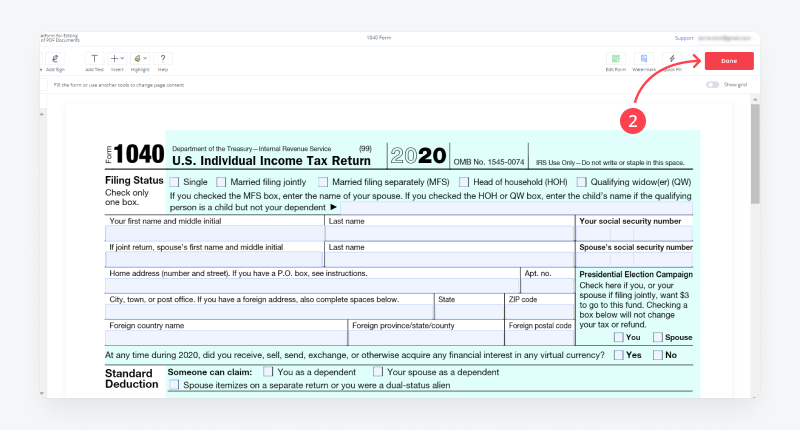 Frequently asked questions
Are there fillable PDF forms for free anywhere?

Yes, there are several huge online databases for fillable PDFs, and ours is one of them. So if you care to find the form you need, search for it in the "Search for Documents" tab on our main page.

Can I find IRS PDF fillable forms online?

Yes, there's plenty of IRS forms right where you are, on the PDFLiner website. Check out the Tax & Finance category to find the ones you want to fill in.
Have more questions? Contact Support
Solve all your problems with Secure ESign
Find Forms Fast

Via PDFLiner, you will easily find the most frequently used construction-related forms, such as engineering reports, invoices, job applications, etc.

Go Mobile

Our online document management tool is accessible across all platforms. With PDFLiner, you can complete construction forms, send invoices, and collect signatures on-site right from your mobile.

Save Precious Time

By making the most of our smart online editor, you will save lots of time completing and annotating construction forms. No more paper-based time-consuming reports.

Add Valid E-Signatures

Collect and add electronic signatures to your PDFs on the go. They are completely valid and bear the same legal status as handwritten signatures.

Keep Your Records Secure

PDFLiner is a 100% secure shared central repository of information that caters to the most complex engineering projects.

Host Fillable Forms

Collect job application forms, project forms, as well as templates of construction contracts by embedding links to fillable forms on your corporate website.
Hear What PDFLiner Users Have to Say & Join Them Today
Now that I've switched from Word to PDFLiner, I save lots of time processing and digitally distributing tons of billing forms, work orders, forecast reports, and invoices. In addition to this, thanks to PDFLiner, we've significantly minimized our paper consumption. Excellent tool that helps me cope with my business workflow faster and easier.

PDFLiner allows me to streamline the processes of generating and managing legal documents, as well as collecting electronic signatures for all my contracts and agreements. I like that I can customize forms on the go and access PDFLiner from all my gadgets. No more printing or scanning! That's just brilliant!

When you're a student, you deal with PDFs a lot… Newsletters, various worksheets, official forms you need to fill in and sign, etc… To me, filling out a PDF form used to be among the trickiest and most time-consuming things ever. But then a friend of mine introduced me to PDFLiner, and oh my God, my life has changed since then. It's easy to use and has so many great features. Just awesome, I love it!